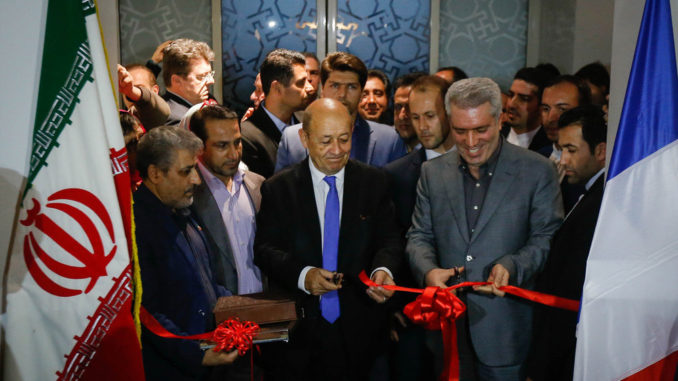 French minister welcomes breakthrough exhibition in Iran amid tensions over nuclear deal.
[T]The Louvre has opened a show in Tehran billed as the first large-scale exhibition by a major western museum in the country, as French cultural diplomacy thrives despite tensions between Iran and Europe over the nuclear deal. 
The exhibition at Iran's national museum, which is celebrating its 80th anniversary, features 50 artworks, including a 2,400-year-old Egyptian sphinx, a bust of the Roman emperor Marcus Aurelius, Iranian artefacts and drawings by western artists including Rembrandt and Delacroix. 
Curated to showcase works tracing the creation of the Louvre, from its founding in 1793 to date, the show came a day after the French foreign minister, Yves Le Drian, arriving in Tehran both to open the exhibition and press officials over their missile programe, received a rocky welcome. One official meeting him broke with tradition, appearing in military attire, and newspaper headlines called him "a rude guest".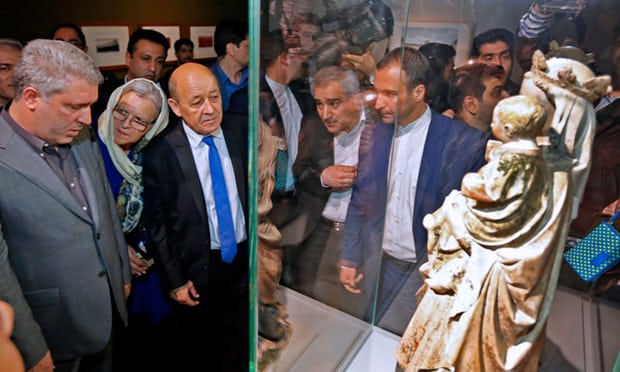 Describing the four-month show as an "outstanding cultural and diplomatic event" for Iran and France, the Louvre said the exhibition was the outcome of the agreement signed between the Louvre and Iran's museums and cultural heritage organisation during the Iranian president Hassan Rouhani's visit to France in January 2016 following the closing of nuclear deal between Iran and the west.
"In the turbulent ocean of international diplomacy, cultural diplomacy is a beacon we must keep alight," Le Drian said at the private opening on Tuesday, a day before the exhibition's doors opened to the public. 
The Louvre has been at the heart of the French government's cultural outreach. The French president, Emmanuel Macron, last year opened the new Louvre museum in Abu Dhabi, in the UAE, an ally of Tehran's regional arch enemy, Saudi Arabia. The French culture minister said earlier this month that Leonardo Da Vinci's Mona Lisa, its most celebrated exhibit, could go on a rare tour of France after spending nearly all of the past 500 years in Paris.
It was also recently announced that Macron had agreed to a loan of the Bayeux tapestry for a show in Britain, while its home museum in Normandy undergoes renovations.
Jean-Luc Martinez, the Louvre's director, told AFP that "relations between France and Iran are old and profound because France was a pioneer of archaeological exploration [in Iran]"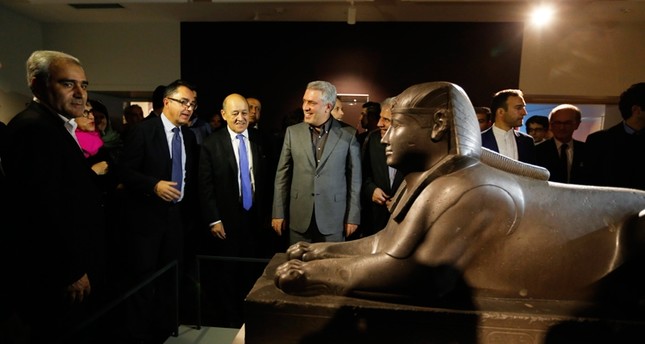 Diplomatic relations between Tehran and Paris, however, are tense. Iranian officials have followed French diplomacy with bewilderment. At one point prior to the landmark nuclear agreement, Paris appeared to be torpedoing progress in reaching an interim agreement that prompted jokes in Tehran that France was replacing the US as le grand satan (the great satan).
In the post-sanctions era, however, France has proved to be the most willing western partner in reintegrating Tehran back to the global market. Total has signed a $5bn agreement with Iran's state-owned oil company, Iran has ordered a list of new commercial planes from Airbus, and carmakers Peugeot and Renault have returned to Iran. 
France appears caught between a rock and a hard place. Under pressure from Donald Trump, who has vowed to pull the US out of the deal unless Europe"fixes" the agreement, France is pressing Iran to hold talks on its missile programme and regional involvement.
Zarif made clear to Le Drian that Tehran would not entertain such discussions, and accused Europe of appeasing Trump. 
Le Drian had said prior to his arrival in Tehran that Iran risked exposing itself to fresh sanctions if it remained reluctant to discuss its missile programme.