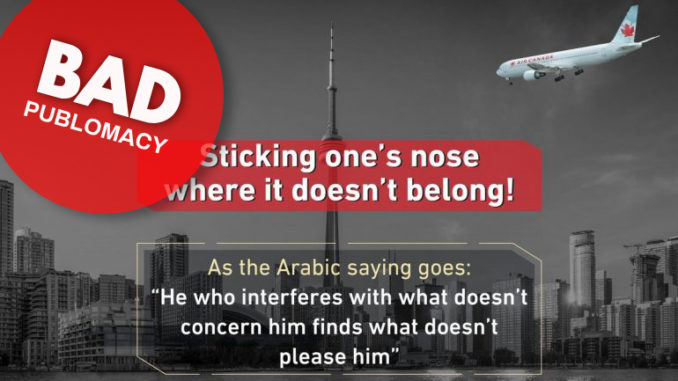 Saudi Arabia's state media on Monday tweeted a graphic appearing to show an Air Canada airliner heading toward the Toronto skyline in a way that recalled the September 11, 2001, terrorist attacks.

Saudi Arabia expelled Canada's ambassador after an official account called for the release of detained women's rights activists in the kingdom.

The Saudi account deleted the tweet and reposted another without the airliner.
The caption read: "Sticking one's nose where it doesn't belong," and underneath that it said: "As the Arabic saying goes: 'He who interferes with what doesn't concern him finds what doesn't please him'".
The post was later deleted after furious social media users likened it to the al-Qaeda led terror attack in New York on September 11, 2001, which killed 2,977 innocent people.
Fifteen of the 19 hijackers were Saudi Arabian citizens, while Saudi royals have long been accused of involvement in the attack.
The account later apologized saying:
"Earlier we posted an image, which is why we deleted the post immediately.The aircraft was intended to symbolize the return of the Ambassador, we realize this was not clear and any other meaning was unintentional. We apologies to anyone who was offended."
The Twitter account itself was deleted on Monday afternoon on the orders of the Saudi government "until investigations are completed", the Washington Post reported.
---
Reactions
Aviation analyst Alex Macheras said the account was connected to the Saudi royal court and it had been described as "an official government" account in Saudi-owned state media.
Elizabeth Tsurkov, a research fellow at the Israeli Forum for Regional Thinking, said: "Seems like they realized that reminding us that 15 of the 9/11 hijackers were Saudi is not a great idea".
Now deleted, here a screenshot of the threatening Saudi "infographic" featuring an airliner headed for the Toronto skyline. pic.twitter.com/LrkCLxxjFk

— Tobias Schneider (@tobiaschneider) August 6, 2018