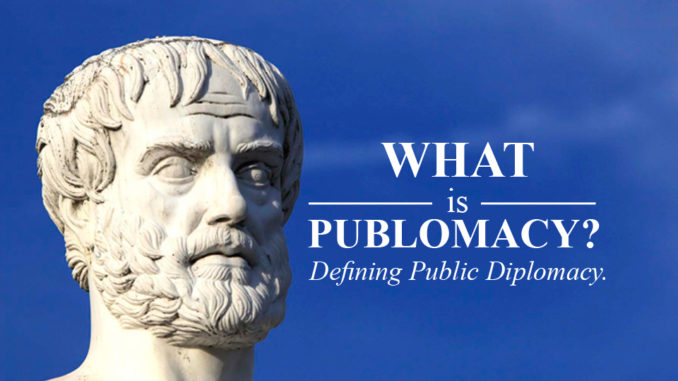 [P]publomacy, or public diplomacy. a new international relations topic of study, concentrating on the communications between a state and foreign public in effort to preserve its national interests. Or, as many prefer to describe it simply as:"influencing foreign governments by influencing their citizens." Or, " winning the heart and minds of foreign nations."
Emerged in the academic realm shortly after September. 9/11 terrorist attack. The incident was a wake-up call for governments to look-back for other types of international communicating and beyond classical diplomatic channels. why?, it seems that formal diplomacy did not take in consideration the huge changes occurred to the global political environment between 1991 and 2001. One most important point was the flourishing of democracies that lead the increase importance of public opinion – especially- after the fall of Soviet Union, since many new countries that gain independent adopted democracy. Another point is that formal diplomacy did not prevent terrorists who came from what thought to be allied countries, like gulf states, Pakistan, Afghanistan, Egypt, etc. this weakness in protecting national interest was due to thinking that the world is still in the 19th century, ignoring all the changes in the relations between citizens and their governments, in new more connected world.
Defining Publomacy (Public Diplomacy):
Although I gave two common definitions of what many think is the core of publomacy, but as a term, it's not agreed between scholars. Even though the term public diplomacy was coined in 1970's by former U.S. diplomat, Edmund Gullion. But since then, there is not a single definition that one can say this is publomacy. Simply, there are as many definitions as the number of people talked about publomacy. Some says this might be healthy for the topic, making it dynamic, which I agree with.
So, here I will provide the readers with all aspect of defining publomacy (public diplomacy), I will include a number of the most will known definitions of the term, that almost every student or academic persons interested in publomacy with find it through his readings.
I will update this list periodically upon what I find through my readings.
---
Edward Murrow, 1963,

speaking as director of USIA




"Public diplomacy differs from traditional diplomacy in that it involves interaction not only with governments but primarily with non-governmental individuals and organisations. Furthermore public diplomacy activities often present many

differing

views represented by private American individuals and organizations in addition to official government views"



Christopher Ross,

at Brookings/Harvard Forum, January 16, 2002


"I conceive of public diplomacy as being the public face of traditional diplomacy. Traditional diplomacy seeks to advance the interests of the United States through private exchanges with foreign governments. It works very much in coordination with and in parallel to the traditional diplomatic effort." 

Planning group for integration of USIA into the Dept. of State, June 20, 1997
"Public Diplomacy seeks to promote the national interest of the United States through understanding, informing and influencing foreign audiences." 

Hans Tuch,

former

 Foreign Service as 

USIA director for the Soviet Union and Eastern Europe.


" it is 'a government's process of communicating with foreign public's in an attempt to bring about understanding for its nation's ideas and ideals, its institutions and culture, as well as its national goals and current policies".
CSIS:

CENTER FOR STRATEGIC & INTERNATIONAL STUDIES


"Bringing foreign populations to our side depends on building long-term, people to-people relationships, particularly among youth"
Paul Sharp

Professor of Political Science at the University of Minnesota Duluth.


"The process by which direct relations with people in a country are pursued to advance the interests and extend the values of those being represented"
Sir Michael Butler,

former British permanent representative to the European Union, 2002


"The purpose of public diplomacy is to influence opinion in target countries to make it easier for the British Government, British companies or other British organisations to achieve their aims …".
Albert Spiegel,

Head of the Federal Foreign Office Directorate-General for Cultural Relations and Education Policy, 2002


"When one speaks of public diplomacy this side of the Atlantic, as a rule one is not solely referring to the general public and to the pragmatic issue of how one can win their support and sympathy. . . Diplomats are thus called upon to view their function less as exclusively targeting political functionaries and elected members, bigwigs and multiplicators, but also proclaiming the policies of their home countries to the general public abroad and presenting them in a favorable light."
Thorhild Widvey,

Former Norwegian politician who served as Minister of Culture, 2003


"The media, international organisations, and non-governmental organisations as well as business interests have become much more active in defining public opinion. For foreign ministries this requires more attention be given to what has become known as public diplomacy. In short, public diplomacy means engaging in dialogue with wider audiences on a wider range of issues than those of day-to-day politics"
---
My Definition of Publomacy: (updated 2.may.2017)
---
Ramzy Taweel,

Foreign affairs office, Palestinian Presidency


" Any government's process of communicating with foreign public's in an attempt to win their hearts and minds, in order to have a preferred behavioral action that supports the national interest of the initiative state".
Another simple -yet- interesting definition:
"Influencing foreign states by influencing their citizens"